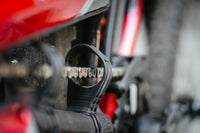 SILENT TECHNOLOGY
Developed in collaboration with downhill mountain bike legend, Chris Kovarik in Whistler BC. Designed to keep your bike quiet and efficient whilst minimizing wear. 
The STFU Bike drive-train dampers contain your chain when things get rough - preventing chain slap and noise from your frame but also preventing your chain from over-extending sideways - decreasing wear and extending chain life.
Under tension from pedaling the chain remains completely clear of the STFU Bike units for complete efficiency.
Testing on Chris Kovariks M29 in Whistler Bike Park
REVIEWS
Don't take our word for it...
NSMB.com long term test
"I've been running the Trail model of the STFU Chain Damper since the first production run. Following the directions provided, it mounts easily and does what it's tasked with no quibbles. If I take it off, I'm quickly reminded of how the STFU cuts down noise. But most interesting was that it wasn't just the sounds from the chain connecting with the supplied chainstay protection.
The STFU's restriction on the chain made the bike feel better, cutting down on feedback through the drivetrain when rumbling down a rough trail. With the chain not able to sling around as much, everything feels tighter, similar to running a fresh chain verse a flogged one.

The STFU chain damper does what it says on the box... riders keen to silence their drivetrain will appreciate it."

Link to full review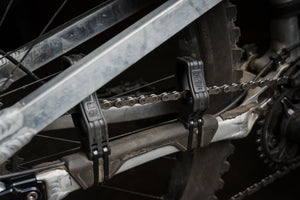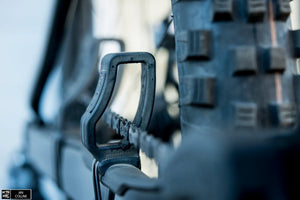 MTB-MAG.com review
If you're even remotely mechanically competent, the ~five minute installation is a breeze. The guide blocks are designed in a way that they will accommodate a wide range of suspension designs rather easily. STFU have done a painstakingly thorough job of working an element of universality into the design.

On trail, I noticed an immediate and substantial improvement in how quiet my Rail became; it was slap in the face obvious. On the Sentinel, there was a noticeable difference as well, although it wasn't quite as dramatic. Roughly speaking, even with motor noises aside, the volume on both bikes was turned down to a much more acceptable level which is always nice as it is less distracting and allows you to focus on the trail ahead.
GMBN TECH REVIEW ON OUR DAMPERS
Doddy reviews our dampers and throws in a bit of info about founder Chris Kovarik
VORSPRUNG SUSPENSION
Steve discusses how your chain can reduce suspension performance and what you can do to limit it.
TESTIMONIALS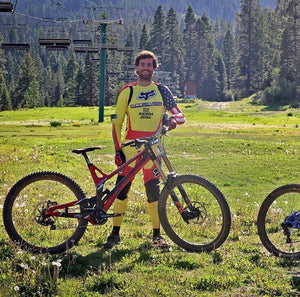 "Our mechanics spend hours trying to make our bikes quiet from chain slap at the races, and I have not found a better solution than the STFU. It only took a minute to install, protects the frame, and keeps the bike dead quiet."

Neko Mulally, Intense Factory Racing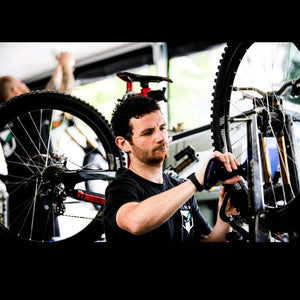 "After trying numerous solutions for reducing chain noise, nothing comes close to STFU. Considering it also helps with chain retention, it's one of the best value upgrades you can do to your bike. Once you ride with STFU then remove them, you won't believe how much more noise there is."
Ben Arnott, YT Mob WC Mechanic
"I have looked up to Kovarik for years. Not only for his riding but also for his knowledge in term of bikes and settings. Seeing him work on the STFU made total sense. I have been on it since the first prototypes and nothing beats a silent bike! Highly recommend it to anyone who hates chain noises"
Rémy Métailler, Pro Mountain Biker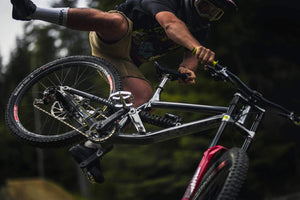 "I always like my bikes feeling solid and quiet. Sometimes it's hard though when the only thing you can add to make it more quiet is heavier parts. The STFU unit has me stoked because it helps with silence with next to no weight added, the perfect combo!"
Remy Morton, Dig Jumps Go Fast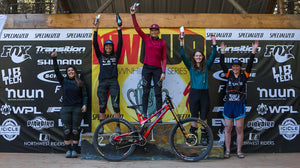 "When all you can hear is the sound of your tires on the terrain you're riding, it's a great thing and allows you to focus on just that - the terrain you're riding!"
Claire Buchar, Pro MTB Athlete & Coach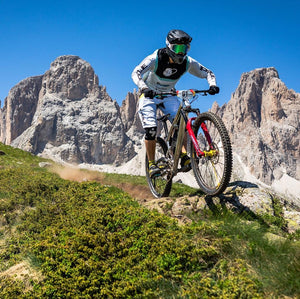 "A silent bike is a fast bike because the quieter the bike is, the more I can enjoy the riding itself"
Matti Lehikoinen, Pro Mountain Biker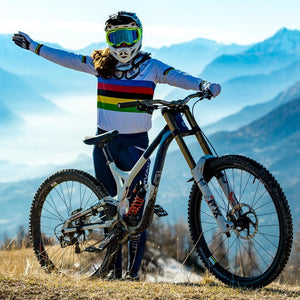 "I've been trying to make my bike as quiet as possible and I couldn't find any better system than the STFU. Just does the job and is really easy to install. I wasn't sure if it would work with a high pivot suspension bike but it is easy to adapt to every bike, which is great!

Cam Balanche, 2020 DH World Champion